Who should I have. I have had so many. I just have to give this guy so much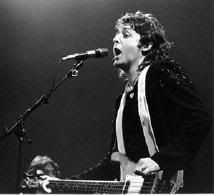 I am so sure my bother would disagree but he is the reason Junior High was so easy.
His music has done so much for me.
I am writing this because I was reading Brenda's blog and she was talking about music and
decisive
moments in her life. She had the song Wendy. I got the song stuck in my head and it was not easy to get out. I wish it was not filled with 1970s icons but what can I say. All I can say is that thinking about this made me think about hearing

Hey Jude i

n 1978 being played on the radio while I was in Ramon's mom bedroom. I was thinking how I wanted to be anywhere else on new years than at

The Bruno's

but i had spend so many holidays with the Puerto Ricans that I really did not think I stood a chance of ever leaving. Then it was on. They were there. In my head forever.

They touched my heart and I have ever been the same. They(and he) have carried me through pain and happiness and will always be remembered by me as my first Musical crush

Paul is now more than 64 and I will still feed him.
He has gone through so much and most of his old friends are dead. Heather(the dancing stump) Mills was no Linda.


JUST HOW MANY FUCKING

PROSTHETIC LEGS

DOES SHE OWN????
Paul has regained my respect and maybe he never really lost it. His new CD will be mine and I hope he is with us many more years because the day he goes a bit of my heart will go with him.

No one ever eve left around.....
You know I would lay this over and over and over. Just ask "el Cuciador" he hated it as much as I hated his stupid cologne that he wore all summer. Eau de Gray Flannel. Yuck.
If Gray Flannel had to have a smell, yes that was it. Hot and full of pepper, in a hot un-air condition house in South Texas. Let me tell you I was fit t be tied.

Paul and Linda just sang to me. It is funny because that need for repetitive music is part of the calming mechanism for people with ADD and I did not find this out till much later.
Wings at the Speed of Sound.....Wings Over America......London Town.......Mcartney!!!

I cannot write anymore tonight. I am going to go and dream of that

White Montgomery Ward Record Player. The sound of the scratches and the first PLINK
of Paul's Guitar.