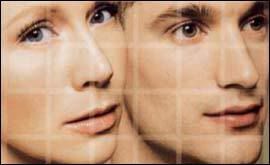 Wow!!!!Listen
I Love this band, sure they no longer exist, well as a band but they are super as all those from Manchester are. Does anyone remember Manchester burning in
. I saw Cillian tonight in
SunShine
. What a waste.I waited and waited for this movie. I love Danny Boyle, but something happened here, something very bad and I almost walked out, I almost never walk out of a movie. I did walk out of Jude Law in
Alfie
, although I loved Michael Caine in the original. I do not even walk out of Adam Sandler movies. So to actually think of walking out Cillian(Jim)it was not good. So.....Back to Lamb.Lamb were an electronic music duo from Manchester known for their trip hop and drum and bass influenced sound. The duo comprised producer Andy Barlow, also known as the "Hipoptimist", and singer-songwriter Lou Rhodes.Although getting their start in Manchester, Lamb are more commonly associated with the Bristol-based trip hop sound that was popular during the nineties. Aside from trip hop, their musical style is a distinctive mixture of jazz, dub, breaks and drum and bass, with a strong vocal element and, in their later works especially, some acoustic influences. While they were a hit phenomenon in the UK, they found limited success in other parts of the world.Lou Rhodes is a singer and songwriter from Manchester, England.
Rhodes is seen to be an intensely private person. Little is known about her beyond her musical career other than that she has two sons, Reuben and Solomon, having recently divorced the father of her children, percussionist Crispin Robinson.
As well as providing vocals for the band Lamb, Rhodes has recently released her debut solo album Beloved One.
Rhodes has also collaborated with The Cinematic Orchestra on Ma Fleur.
Give her a listen if you can!!!